One of the best ways to experience the traditions and cultures of Italy is by eating and drinking–or even cooking–your way through the countryside. Travelers seeking a truly authentic Italian experience should check out companies that specialize in culinary vacations in Italy. Embarking on one of these Italian cooking trips is one of the best ways to immerse yourself in the country's rich history and culture.
La Locanda del Prete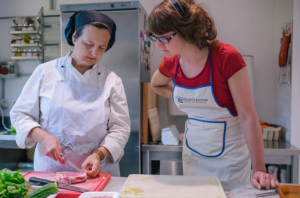 Located in the expansive, picturesque region of Tuscany, La Locanda del Prete offers visitors a glimpse into the true Italian lifestyle with freshly prepared food, local-handcrafted wines, group storytelling and live music. La Locanda del Prete is owned by Carlo Innocenti, a chef who specifically specializes in Tuscan country cooking. This bed and breakfast provides a relaxing atmosphere away from the hustle and bustle of city life. The property offers wine tours to nearby regions, and guests will learn the chef's secrets on how to make traditional Italian pasta. Prices for a stay at La Locanda del Prete start at $1,450 for half a week.
La Locanda del Prete
(800) 766-2390
lalocandadelprete.com
Villa Gaia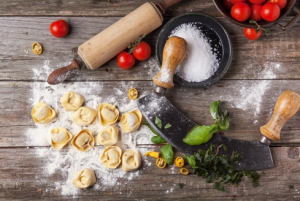 Savor scrumptious food and taste delicious wines when you embark on an Italian cooking vacation with Villa Gaia. Guests who sign up for an excursion with Villa Gaia will sample wine in old Italian wine cellars and enjoy home-cooked meals in small, cluttered trattorias. Villa Gaia is located in the medieval village of Seggiano and boasts stunning views of the surrounding unspoiled rolling hillsides. The property is owned and operated by the Cannaviello family, who offer their guests the best in Italian hospitality. Guests can choose from various tours and programs at Villa Gaia, including ones that focus on local cheeses, seafood dishes and traditional Tuscan peasant cooking. For specific prices, be sure to contact Villa Gaia directly.
Villa Gaia
(800) 766-2390
tuscanway.com
Tasty Tuscany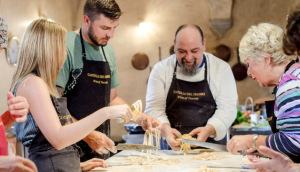 Take this unique opportunity to wine, dine and relax for a week in a beautiful Tuscan home, while learning about authentic Italian food, wine and local artwork. Guests participating in the Tasty Tuscany program will stay at a refurbished Tuscan farmhouse located on a picturesque hilltop. Hosts Pat and Paolo will guide you on a tour of the Italian countryside, offering a chance to sample all of the locally grown food and wines. Guests will also have the option to partake in the cooking classes offered on the property. The bed and breakfast is furnished with antique pieces that have been handed down through generations. Take a stroll through the olive trees on this gorgeous property and live like a true Italian.
Tasty Tuscany
Via Agliati, 123
56036 Palaia Pisa, Italy
011 (+39) 0587 622 186
tastytuscany.com