Our family loves to travel and discover new places and adventures. After my son was diagnosed with type 1 diabetes in December 2005 at the age of 8 our traveling and adventures had to change quite a bit.
In September 2008 we decided to visit Disneyland for very first time since his diagnoses.
I was little hesitant and stressed out about the long lines, hot weather and not the best food choices inside the Disneyland.
It took little bit more planning and research, but we decided to go for it.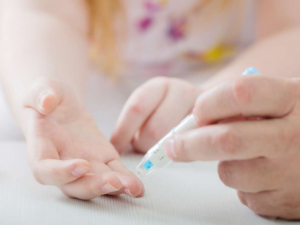 My son is a brittle type 1 diabetic which means his blood glucose level can go very low or skyrocket without any particular reason. There is no pattern to his diabetes so he requires close monitoring and extra attention. I needed to make sure that he's safe, all his diabetic needs are met and he can be a kid and have lots of fun.
We flew out of the Spokane International Airport. Since we live about 3 hours away we decided to stay overnight at the Ramada Airport Inn. They offer Park'n'Fly (free parking for up to 14 days) which is a great deal since they are located directly across from the airport terminal. This decision made it so much easier to control his blood glucose levels. No middle of the night traveling and stress.
After a short flight we landed at the John Wayne Airport in Orange County. We stayed at the Best Western Park Place Inn located directly across the entrance to Disneyland and California Adventure park. The Best Western was by far the best deal around: friendly staff, very reasonable priced nice rooms with microwave and mini fridge, gift shop, car rental, complimentary deluxe breakfast next door at Captain' Kids, 5 minute walk to Disneyland.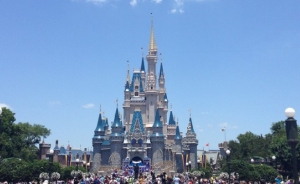 The fridge in the room was very important to us to keep all his insulin and special snacks and juices cold and fresh.
We bought our tickets online at www.Disneyland.com to save money. I did a research and I found out that if you travel with a child with type 1 diabetes (or other disability) you can stop by Guest Services right after you enter Disneyland for little help to make them have as much fun as possible.
Our son received Guest Assistance Card which allowed him and up to 5 members of his party use wheelchair entrances at various rides and attractions. Since it was a hot day we had to stop many times to check his blood glucose and give him drinks and snacks, but thanks to his pass he didn't miss out on anything.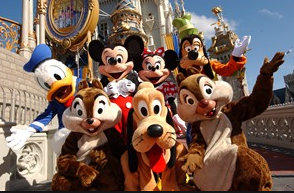 Most of the attendants made him feel very special and he didn't have to wait too long. The longest we waited was 15 minutes on the most popular rides.
We purchased our snacks and bottled water at the corner store by the hotel. The drinks and food inside Disneyland are very overpriced and most of the meals and snacks don't show their nutritional value which we needed to give our son the correct amount of insulin.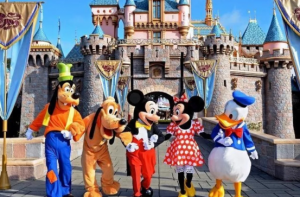 Since our hotel was only 5 minutes away we ate lunch and dinner outside Disneyland. Just a short walk from the Best Western Park Inn was IHOP restaurant, McDonald's, Denny's and Tony Roma's Steakhouse. Everywhere we go we bring with us The Calorie King Calorie Fat & Carbohydrate Counter booklet which lists nutritional values for meals in many US chain restaurants. This little booklet is a MUST if you travel with type 1 diabetic child.
At the end we all enjoyed our trip to Disneyland, made new memories and kept our diabetic child happy and safe.
We returned back to DISNEYLAND in September 2010 with our now teenage diabetic. Once again he received the special pass and enjoyed every minute of Disneyland.
THANK YOU DISNEYLAND FOR MAKING OUR VISIT SPECIAL!!! Children with disabilities struggle every single day to live normal life and you help them with magic of Disney to feel "extra special" and "kind of a big deal" around the park.