Several demonstrantions highlighting Israel Apartheid happened today in different villages across the West Bank.
In Kufr Qaddoum, around one hundred people from the village, together with Israeli and international activists, participated in the weekly protest. As every Friday, after midday prayers, demonstrators marched from the centre of the village up to the main road. One border police jeep and an armored bulldozer were blocking the road and destroying the barricades that protesters had previously built. After a while, Israeli forces pulled back and protesters ran forward but were soon met by several soldiers who started chasing them and throwing stun grenades.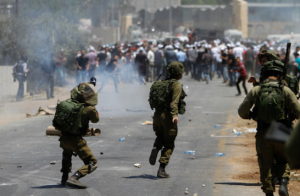 In Nabi Saleh, today's demonstration was shorter than usual as residents of the village wanted to support the nearby town of Abud in their protest. Over 150 people participated in the demonstration, held in a road on the outskirts of the village. Some of the protesters caused damage to a gate and a cabin situated close to the road and Israeli forces quickly appeared at the scene. Rubber coated steel bullets and tear gas canisters were shot at the crowd and some people suffered from tear gas suffocation. When the protest finished, residents of Nabi Saleh went back to their village and held a football match in memory of their martyrs; Mustafa Tamimi and Rushdi Tamimi.
As every friday, residents of Bil'in and Ni'lin also participated in their villages' demonstrations. In Bil'in, approximately 60 people, joined by a handful of Israeli and international activists, marched towards the wall, where Israeli forces were stationed and shot tear gas canisters and skunk water; Palestinian youth threw stones. Today's protest was dedicated to Palestinian prisoners and also wanted to highlight Israeli Apartheid.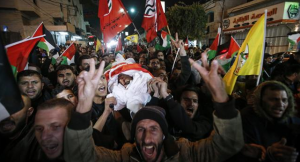 In Ni'lin, clashes also erupted as protesters tried to reach the gate broken during last Friday demonstration. Palestinian youth threw stones while Israeli forces shot tear gas canisters and rubber coated steel bullets at them.
No arrests or serious injuries were reported in any of theses demonstrations.
On the contrary, in Hebron, confrontations between Israeli forces and Palestinians resulted in one adult and two children (9 and 11 years old) arrested. Clashes lasted for the whole day; Israeli forces invaded the Palestinian controlled H1 area and shot large quantities of tear gas canisters and rubber coated steel bullets while Palestinians threw stones at them. Several people suffered from minor injuries from tear gas and rubber coated steel bullets.
Confrontations also took place today in al-Ram, where the funeral for Moayad Nazih Ghazawneh was held. He died today after his car was hit by a tear gas canister two weeks ago. Moayad inhaled the tear gas and died as he also had heart problems.